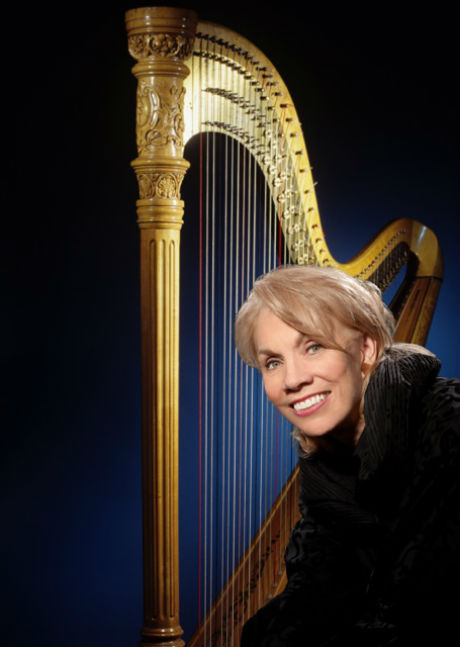 One of the last pupils of world-renowned harpist/composer Carlos Salzedo (at his Harp Colony in Camden, Maine), Danis Kelly has followed through with Mr. Salzedo's wish for the "materialization of her ideal."
Danis Kelly has held the Walter Schroeder Principal Harp Chair of the Milwaukee Symphony Orchestra, as well as the Principal Harp Chair at the famed Santa Fe Opera, each for over 40 years.
As featured soloist, Ms. Kelly has appeared many times with the Milwaukee Symphony Orchestra (at home and on tour), the Milwaukee Chamber Orchestra, as well as other symphony orchestras in Wisconsin, Washington and Texas. Her repertoire has included concertos by Debussy, Ravel, Gliere, Castelnuovo-Tedesco, Mozart, and Handel. Her recitals have included the Sarasota Artist Series, the University of Wisconsin-Madison faculty recitals, and the Milwaukee Art Museum.
Ms. Kelly's parents started her musical career when she was six, and by her teens she had learned to play the piano, cello and the harp. Every child in her family (in Amarillo, Texas) studied three or four instruments, and her sister is a professional violinist. At age 16, thanks to the fact that her parents sent her to the National Music Camp to study, Ms. Kelly performed at the White House for President Kennedy. As a high school student at The Interlochen Arts Academy, she performed at Carnegie Hall, and at age 18, she was awarded a full scholarship to the famous Curtis Institute of Music in Philadelphia. By the time she was 20, she had performed in nearly every U.S. state on national tours with The Chicago Little Symphony. While a student at the Cleveland Institute of Music, Ms. Kelly performed with the Cleveland Orchestra (George Szell conducting), as substitute harpist. Upon graduation from the Cleveland Institute of Music (with honors from Pi Kappa Lambda Honor Society), she became principal harp for the Florida Symphony Orchestra in Orlando.
Subsequently, through national auditions, Ms. Kelly was selected as the principal harpist for the Milwaukee Symphony Orchestra by Kenneth Schermerhorn. With the MSO, she has performed the world over, touring Europe, Japan, Cuba, and the United States, including many Carnegie Hall performances.
She is grateful to her teachers Carlos Salzedo, Alice Chalifoux, Marilyn Costello, and Charles Kleinsteuber. In turn, Ms. Kelly has taught harp at The University of Wisconsin-Madison (1977-90), Interlochen Arts Academy (1966-67), and in her private studio. She has conducted masterclasses in such places as Hong Kong and Beijing, and her students perform all over the world.